Course details
【Cooking only ♪】 Tama and banquet course 6 items ~ ◇ 3000 yen ~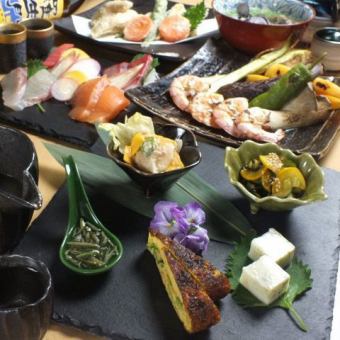 By using a coupon3000 yen
Tax not included
Reservation deadline

2 days before the desired store date until 23 o'clock
Available days for reservation

Monday - Saturday, Sunday and public holiday
The drink is a course with only another dish.3000 yen (6 items) ~ We will receive it according to your budget ♪ We will be able to respond to your request as much as possible, so please feel free to tell us if you wish.
Course menu
【Random Course】
~ Menu details ~
◆ Appetizer platter
◆ Seasonal food Chef 3 items
pottery
(One example: grilled shrimp and vegetables)
Fried food
(One example: tempura in salted soy sauce)
Vegetable dishes
(Example: with seasonal vegetables Jinshanji Miso)
◆ Discontinued item
Please choose one of the following.
Shijimi noodles or baked rice balls soup pickles
◆ Dessert
~ All 6 items ~
* By purchase of the day, contents are subject to change.
※ The contents of the dish can be changed according to your request, so please consult us.
※ Please tell us your cancellation by 2 days in advance.
※ Cancellation on the day will be charged the full amount of the prescribed fee.
2018/11/20 update